Tone Firm Burn Challenge Coming February
We are so excited to fill you in on our upcoming challenge this February… Neighborhood Barre's Tone Firm Burn Challenge!



Ok, what is Tone Firm Burn?  Tone Firm Burn is Neighborhood Barre's Health & Fitness 28 Day Challenge. The Challenge is simple. You take as many classes and formats as you can in 28 days following your weekly class attendance goal – hence Tone, Firm, or Burn.
You pick your challenge:
Tone – 3 classes a week (3 barre)
Firm – 4 classes a week (3 barre + 1 specialty class)
Burn – 5 classes a week (3 barre + 2 specialty classes)
Then keep track of your progress over 28 days with your studio card, marking off each class attended. So you've got the attendance part down, but what exactly does specialty class mean? That's our Barre HIIT, POWER, or CORE classes, respectively. If you haven't tried these before, let's quickly cover what exactly each class is, so you can decide what goal to choose.
Barre POWER is our newest class format, which debuted in 2019. It's 55 minutes and is considered our advanced class offering, intended for our veteran barre babes. This class strategically moves at a dynamic pace, including the incorporation of our signature 'POWER pulse' throughout class, and is intended to move with the tempo of the music. We also stagger isometric and full-range movements to increase your heart rate and completely fatigue your muscles.
Barre CORE uses the gliding disc in every exercise during this 45 minute class. It targets the center core by constantly challenging your stability; deepens your muscle engagement with greater traction and resistance from the disc; and allows you to safely move in a larger plane of motion with virtually no impact on the joints.
Barre HIIT is our 40 minute interval-based barre workout. We fuse classic barre positions into a high intensity training session, tabata style (we use a 20 second 'workout', 10 second 'reset' timer format) . Expect to rev up your heart rate with full-body exercises and to improve your muscle strength, agility, and endurance.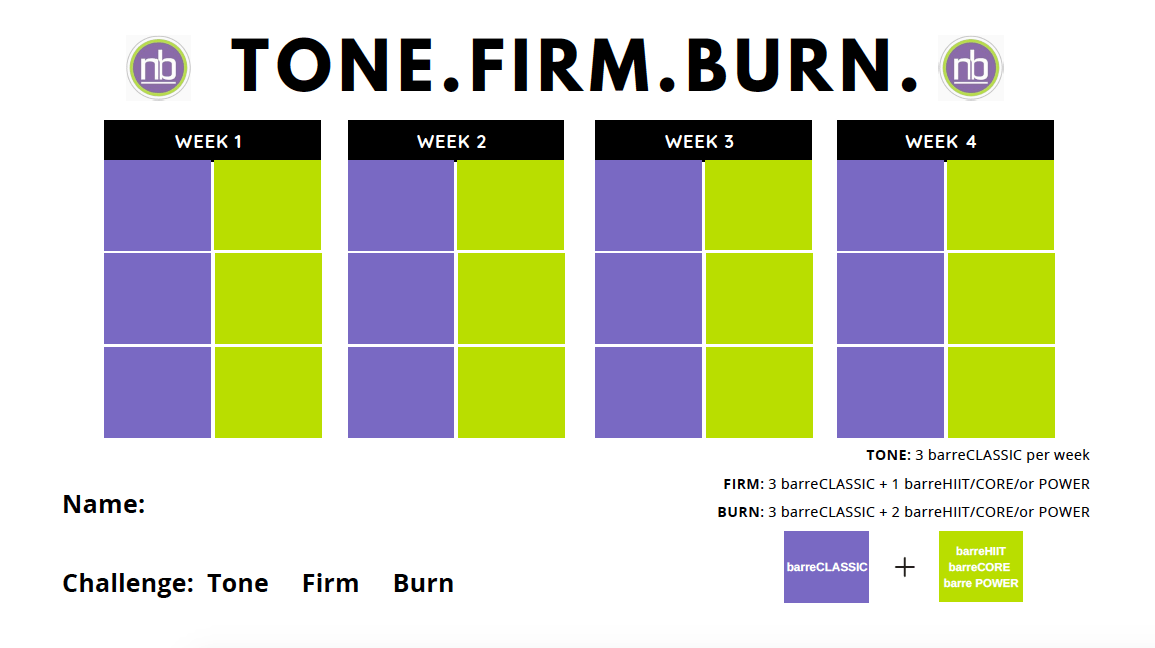 12 classes in the next 4 weeks? What about 16? How would 20 classes feel?
Tone is perfect for any one looking to create foundational principals of movement and stability, increase energy, and become more intentional with their fitness.
Firm is ideal for current clients who are looking to challenge their mind body connection, gain strength, and incorporate more intentional cardio.
Burn is for challengers who want to maximize their results in 4 weeks. Expect to increase metabolic levels, improve muscle tone, and expand your mindset on feeling your best.
Completing a 28 Day Challenge is no small feat, but you're up for it! It takes discipline, planning, effort, commitment, and mindfulness. We'll be here every step of the way, with weekly check-in emails, including tips to get in your classes and motivational and technique-driven videos. You're going to need to schedule your life around your workouts (seriously though). We typically treat our workouts the other way around, getting in a class when our schedule allows, so this is going to take advance planning on your part.
Expert tip: Schedule recurring reservations during those 4 weeks! Attending class the same days/times weekly will help to keep your workouts planned, like a meeting you wouldn't miss with your boss or your bestie. Check out these instructions on how to book your classes as recurring reservations in the Neighborhood Barre app here. Bonus points if you book all of your classes before the challenge even starts! (Whoa – who are you right now!?)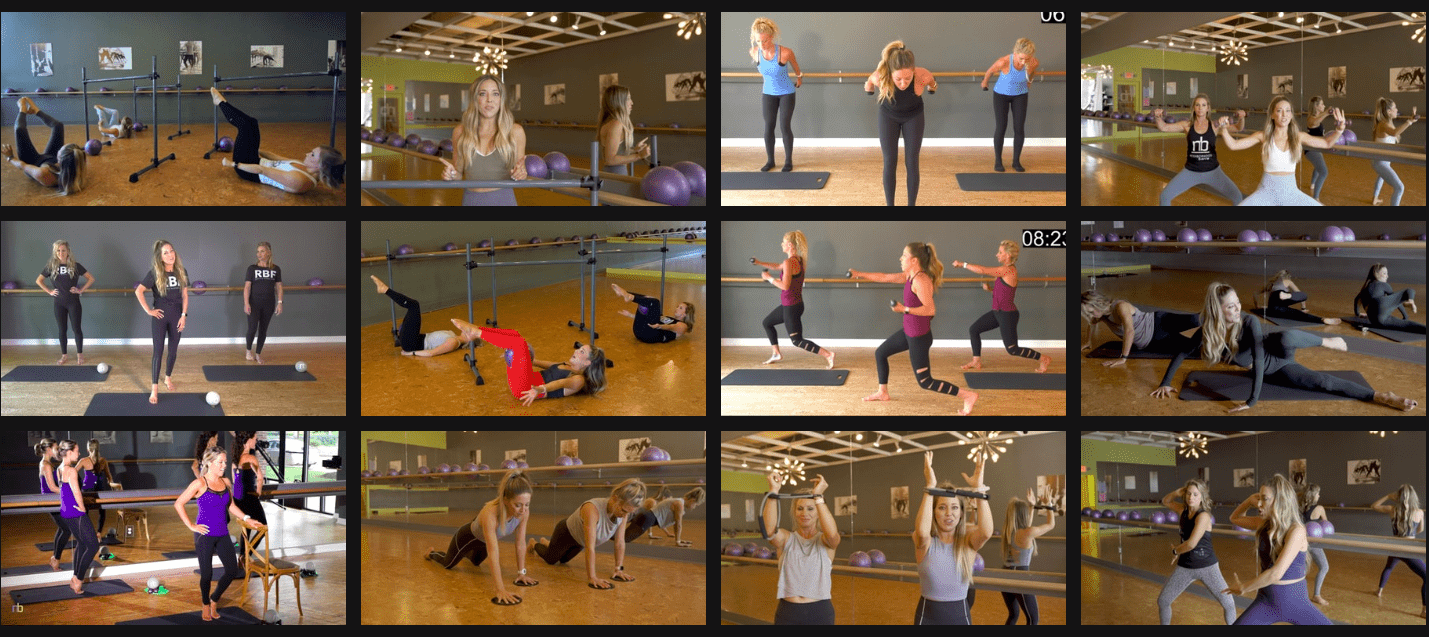 Unsure if you can commit to up to 20 classes? We're making it even easier to hit your goals, with access to our streaming workouts for all Challengers. This way you can get in your classes (which still count towards your challenge goal), from anywhere! When you sign up for the challenge, you get one month FREE NB Online!! Now you have no excuse to miss class or to not reach your goal! *If you are already a NB Online Member, you will get one month added to your subscription.
What are you waiting for! We have a Challenge card with your name on it! Are you ready to sign on the dotted line and commit to class for 28 days? Click here to sign up and get started!!