The Journey To NEIGHBORHOOD barre
Break out the bronze, pottery, lace, and linens! We're celebrating 8 years of NEIGHBORHOOD barre taking over the barre scene! We sat down with the head barre babe, founder Katy Richardson, and chatted about her journey to opening NEIGHBORHOOD barre – which all started with a college injury.
Did you know Katy moved to Knoxville without knowing a soul, to open her first studio? Learn what that first year was like; why she chose to pioneer her own method of barre; why she thinks it's different from any other workout; her fave NB class format; and what she does for self-care outside of the studio.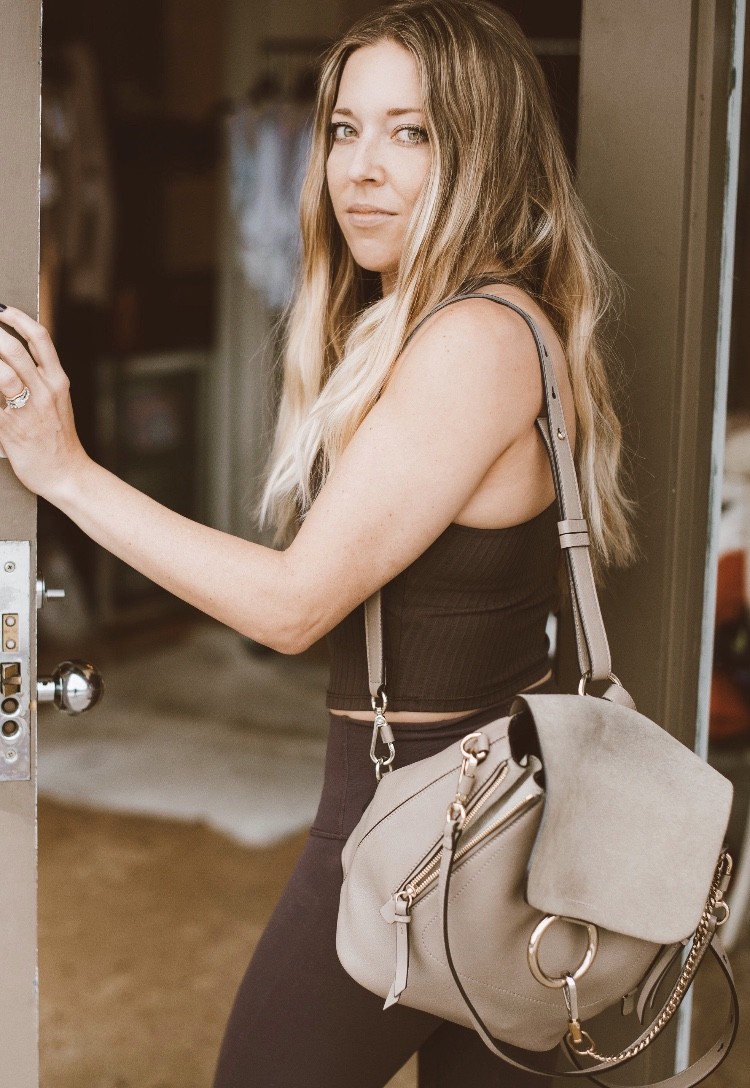 What was your relationship with health and fitness growing up, and how did you end up here?
"I grew up in an active family, participating in a lot of outdoors activities. The first time I repelled out of a tree, I was three years old with my Dad! So really early on, he had me and my brothers outside and constantly adventuring outdoors. I did normal kids sports and activities growing up, and joined the cheerleading squad in high school. I continued my cheering career through college.
While I was in college, I was injured cheerleading and was dropped out of a basket toss. I had pretty severe whiplash,  compression in my ribs, and a pinched nerve bundle in my shoulder blade. Some of my injures had a delayed onset, and so I continued to work out, which continued to aggravate those injuries. Then one year later to the date, I was injured again in a similar stunt, and I decided to quit cheerleading at the end of my senior year. I had been working out in a weight room with the coach throughout college, but knew I couldn't continue down that path dealing with my current injuries. My mother is actually the one who suggested I try a yoga class. I was hesitant to go, knowing nothing about yoga and assuming it was a bunch of stretching and I wouldn't feel like I'd get a good workout in. But given my cheer background, I felt comfortable in a lot of the positions right away, and decided to stick with it.
I became certified as a yoga instructor, and also started taking Pilates classes. Soon after, barre came on the scene around 2008 in my area, and I fell in love! It really clicked for me. It incorporated elements of the yoga and pilates workouts that I loved, but gave me more of the athletic endurance that I was used to – without the impact on my body, which I had been unable to do with my cheer injuries.
Because barre was trending on the fitness scene, I became interested in opening a studio. Coming from a financing and accounting background and a family of entrepreneurs, I knew I wanted to open a business. At the time, I was working as a corporate accountant. I traveled a lot, and was unable to visit a local barre studio consistently with my schedule. But I ended up visiting quite a bit of barre studios as I traveled, so was able to do some market research in that way. Given the economy, it made it a little easier for me to decide to leave my corporate job in finance. But it was still a huge leap of faith to move 4 hours away, knowing no one, having never owned a business, and only really practiced my own workouts on my best friend and younger brother."
Why did you choose Knoxville to open the founding NEIGHBORHOOD barre studio?
"The company I worked for sent us to different division offices all over the country, and the mid-south division office was in Knoxville. Towards the last year I worked there, I got sent to Knoxville all the time. I had 3 cities in mind, and with Knoxville everything seemed to fall into place. it seemed like an existential push where all signs were leading to Knoxville."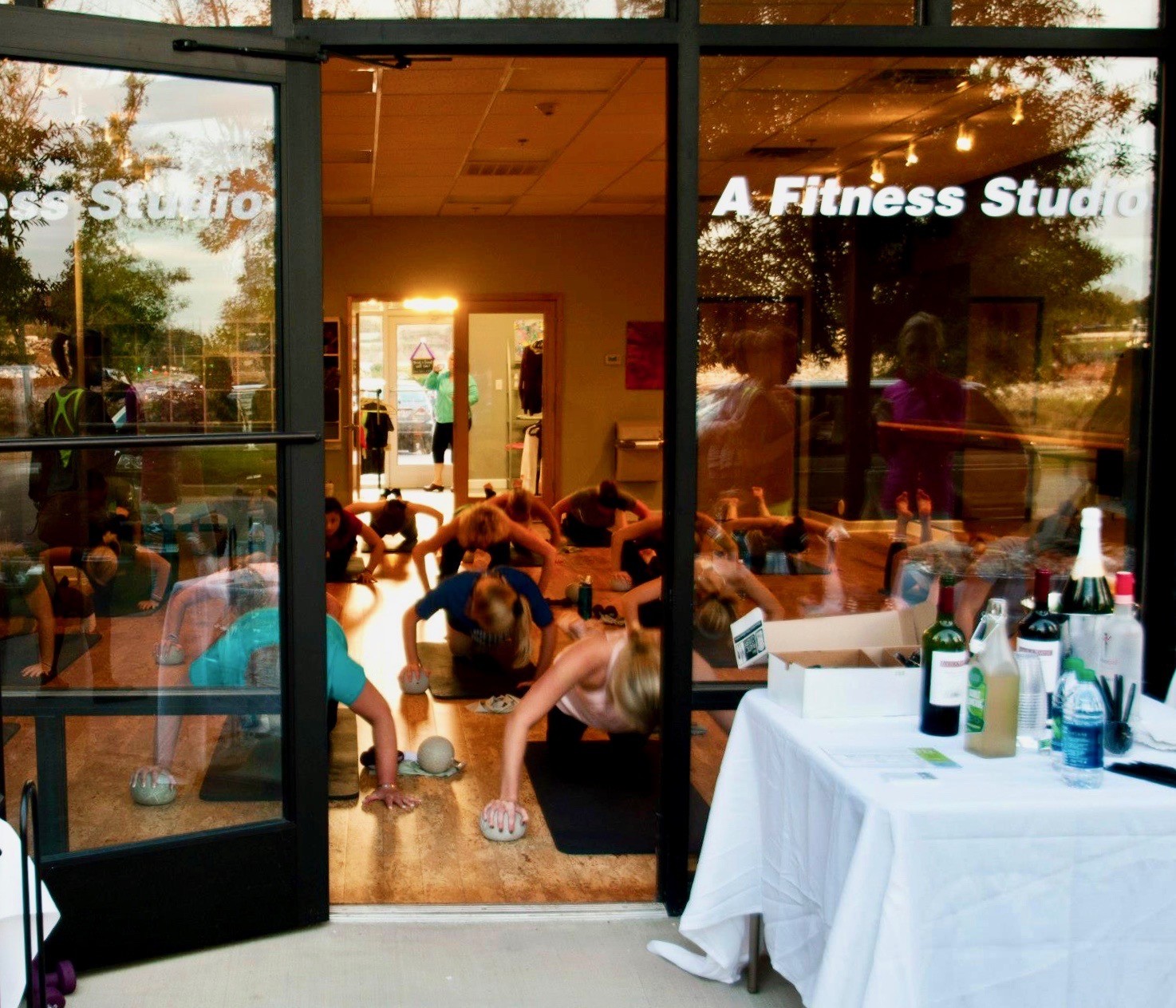 What was opening day like?
"I was very cautious when opening because I didn't want to set myself up for failure. I have this personality where I always want to take all these risks, and I've continued to do so throughout my career. But I also have an extreme fear of failure, so it's like I set myself up but I don't want to fail. I didn't do a lot of advertising, because I knew I wanted to really refine my practice first. I was also first to market in Knoxville. So my first two weeks I'd consider it as a soft opening. The support grew quickly in the community, and people were really excited about it and made me feel really welcomed. I am a very social person, and left all of my friends and family behind in Birmingham. But I told myself I'm not going to worry about making friends, I'm going to put my head down and get to work. But after week one, I had a new best friend, one of my first clients and we're still friends to this day."
Why did you start your own studio versus open up an existing franchise studio in Knoxville?
"I did interview with a franchise, the largest franchise in the country.  I went out to Colorado, and I did two days of interviews with them. And I came back and said, I don't want to be a franchisee, I want to be the franchisor. I just had bigger dreams, and I'd done a lot of research. I didn't want to have one, or two, or three studios – I wanted to create the concept and the company. I didn't feel like any of the existing barre franchises were missing anything in the workout at that time, but the longer I was in the industry, I did start to see holes that I thought we could fill."
Why the name NEIGHBORHOOD barre?
"I literally woke up in the middle of the night, like my eyes flew open staring at the ceiling, and I said to myself – neighborhood barre – that's it?! It makes so much sense! I can open studios in town centers and create these little communities, it was perfect. I called my mom to get her approval, and she loved it too. Now that we've franchised and my eyes were open to other markets, one hole I saw in the industry was community. A lot of barre studios, or boutique fitness as a whole, can be viewed as an elitist workout. So I was really able to use the name towards our mission statement, which is about inclusion, a judgement-free zone, and community atmosphere."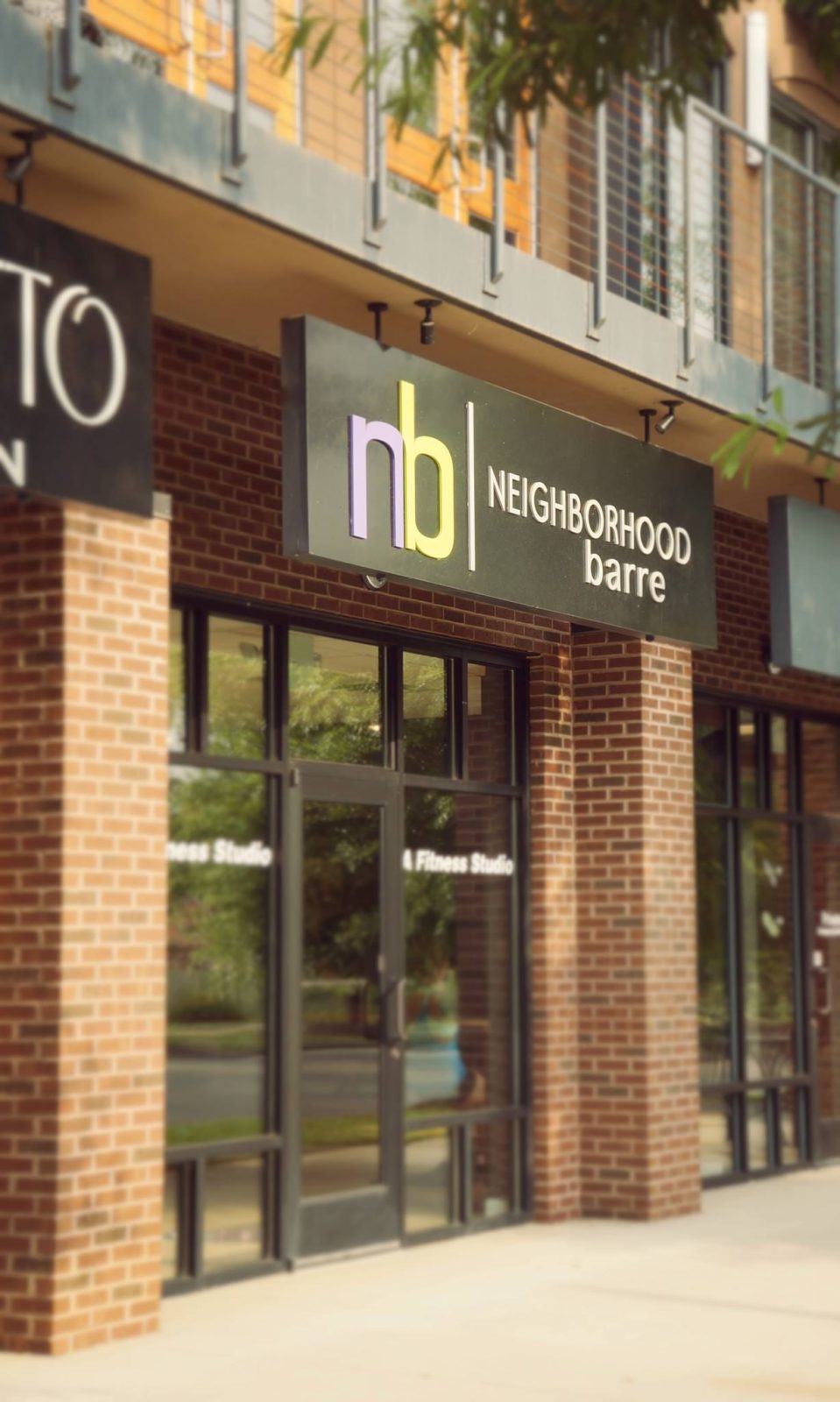 How would you describe NEIGHBORHOOD barre?
"Barre can mean different things to different brands and studios, but our method is based off the Lotte Burke method. She was an injured German ballerina, so a lot of the exercises have physical therapy components and positions, and there's no impact on your body. Although there's a ballet barre in the studio, we don't do any actual dancing. And we're very careful about not using a lot of dance terms to describe the positioning, because we don't want people to feel like they need any experience to take class. There's a lot of pilates and yoga influences, but it's essentially dance-based conditioning. You're incorporating strength training, stretching, and cardio into one class. It's a really efficient way to work out because we work the entire body in either a 45 minute or 55 minute class. We also work each muscle group to fatigue, so you'll get an after burn effect, where your body continues to burn calories after class."
If someone's not in 100% good health, or dealing with a past or current injury, can they still take class?
"Absolutely! We have such a huge variety of ages and abilities that take class together. We also have a huge array of modifications that we can give to our clients. We have seen so many different types of injuries or conditions from our clients – anything from an injured knee or lower back, or pre/post-natal diastatis, to the point of two serious neurological issues to reconnect their brain to their body – it's all across the board. One of my founding instructors just announced her 4th pregnancy with Neighborhood Barre Knoxville. It's great for clients to see her as well – to see an instructor that they feel like they can approach for options in class, that's going through something similar."
For someone who's experienced barre classes elsewhere, what makes Neighborhood Barre stand apart?
"As the boutique industry has changed over the years, we've had to be really attentive to the needs of our clients. So one great differentiator is we do offer a more complete full body workout, that gives both cardio advancements as well as stability modifications. Whereas our original technique already had an interval cardio effect, we've evolved the method to have very intentional cardio advancements during class. We're also really providing a workout that caters to all levels here. We encompass more of a complete, full body workout, if you're taking some of the additional progressions we now teach in our Barre All Levels class. We let the workout meet you were you are, as each day we know you feel different. You're able to get the best of both worlds in our classes – either staying in our baseline position and working isometrically to burn and shake, or taking the optional cardio advancements with more of a full-body approach."
What's your favorite NEIGHBORHOOD barre class?
Barre CORE! It uses gliding discs through the whole class. It allows you to increase your range of motion without putting impact on the body. I love that it builds heat in a whole different way, and you're having to use core strength from the time you start class until it ends. Barre POWER is my second favorite, which is our advanced barre class. It's a cardio-based traditional class, with very little breaks, a fast tempo, and caters to experienced clients.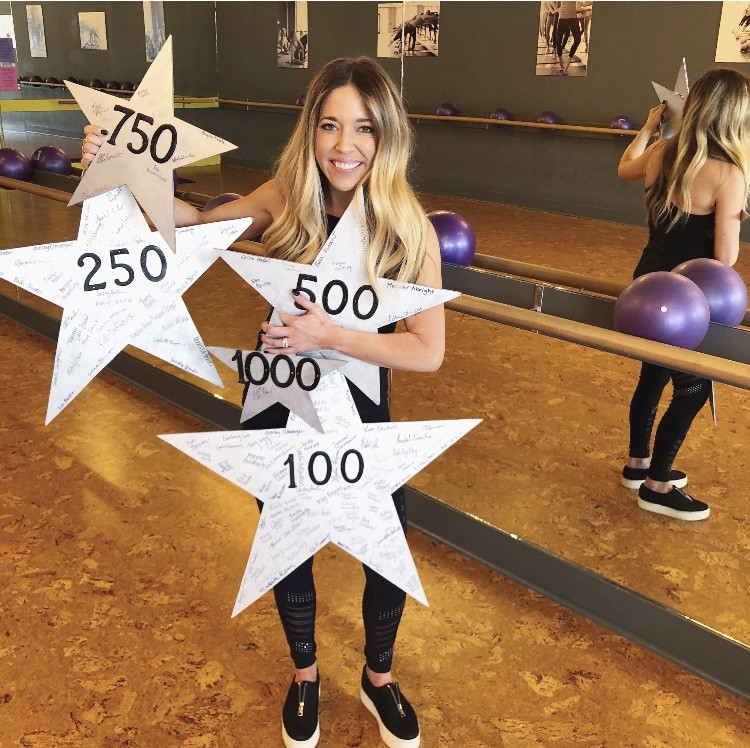 What's your advice for someone who's not currently exercising or in a fitness routine but is considering exploring what's out there?
"I think it's really easy to try something once and decide it's not for you. I suggest that everyone try everything 3 times. A lot of boutique studios have a 3 class intro pack or a one week pass. Most of the time when you try something new for the first time, you're so overwhelmed with the logistics and the terminology you might not understand, but every time you go back it gets a little easier. Try everything you might be interested in, and try everything you think you might not be interested in, because you might be surprised. I never wanted to try hot yoga because I don't like being hot. That's like the worst excuse ever! I went and did a hot yoga class, and I almost passed out. But I was like I lived, so I think I'll try it again. And I actually love it now, but you couldn't have told me before I walked in the doors that I'd like it because I hate being hot. So you can't just take one thing that you don't like doing and decide a workout's not for you.
Also, what a lot of boutique studios are doing now are limited monthly visits, so 4 visits a month or 6 visits a month, where you're able to get on very cost effective options for group fitness. Cost is another barrier for boutique fitness and there are packages available that are very affordable that allow you to take your current practice and mix it up with something else that you like, without having to get into a long term contract. Community is also a huge aspect of that too, everyone will find somewhere you feel you fit in better. Just because you've tried one cycle studio or yoga studio or barre studio and you didn't like it, doesn't mean that every studio will feel that way. So it's important to try multiple studios and brands to find where you fit in with your personality as well as the workout."
What do you do in your "spare" (wink) time?
"When I have free time, which is very limited, I try to spend it on some form of self care. My two favorites are getting facials, and a leisurely walk outdoors with a friend!"