Our family recipes are making their way to YOUR table this year!
You may instantly think of your grandmother's chocolate chip cookies (for me it was her cinnamon sugar swirl toast she'd make me and my sisters for breakfast every time we spent the night), or your father's famous grilled tenderloin with au poivre sauce (he always butchers the enunciation "steak ah-pour-ahhh-ha, whatever it's called!) – but we all have a family tradition and recipe or two up our sleeves.
For some of us, just the smell of that food can transform us back in time to our childhood kitchen, or around your grandparent's table. Cooking recipes from our heritage can bring a sense of togetherness that spans generations by strengthening our bond and connection with one another. Family recipes are a way of keeping our loved ones alive while we dice, stir, simmer and bake!
So during a year where we need togetherness the most, we wanted to share our favorite family recipes and holiday traditions across the NEIGHBORHOOD with our studio family, you!!! We encourage you to consider sharing one or more of these recipes with friends and family, whether near or far from one another, this year. (Are Zoom meals officially a thing now!?) Remember that you are never alone, and we hope that your senses come alive when making, and eating, some of these dishes, bringing you back to fond memories of family still with us, and those still in our hearts.
Now break out your index cards and favorite reindeer apron, and let's get cookin'!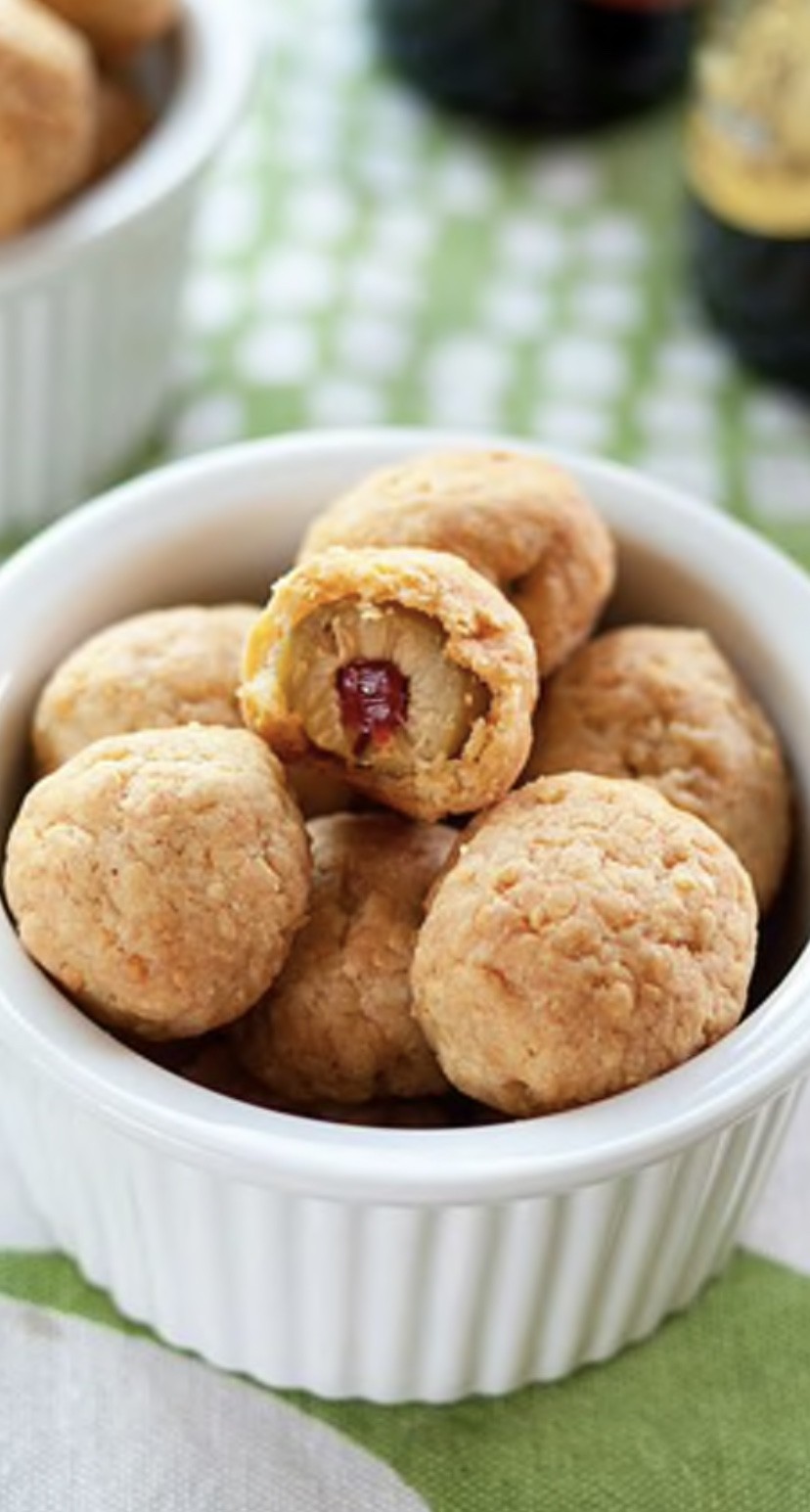 Kelly, Nashville, TN studio owner, prefaces her recipe with saying that it sounds weird (our mouths are really watering now, thanks), but she promise these cheddar-baked olives are oddly addicting. It's the ultimate salty, savory snack and you'll end up popping several more than you realize, because they're that good!
Preheat oven to 400 degrees.
Mix 1 cup of flour (I'd use almond or King Arthur's gluten free flour personally, but it would be shunned if I brought anything 'healthy' home), with 2 dashes (or to taste) of cayenne pepper in a bowl. 
Combine with 3 tablespoons of softened butter (or Ghee!) and 1 cup of extra sharp shredded cheddar cheese (we use the really good aged cheddar cheese and shred it by hand, it's a labor of love ya'll).
Mix until a paste-like consistency forms, and wrap around each green olive. (Usually makes around 30 olives). 
Bake for 15 minutes, or until golden brown.
---
One of Sam's, Concord, NC studio owner, favorite phrases when teaching is "if you're feeling spicy" as a pre-cursor to taking on a challenge in class. So it's no surprise that she picked these brie bites with some zing! Her favorite holiday recipe is Cranberry Jalapeño Brie Bites. This light bite is the perfect appetizer or "pre-game" snack before the big Turkey Day.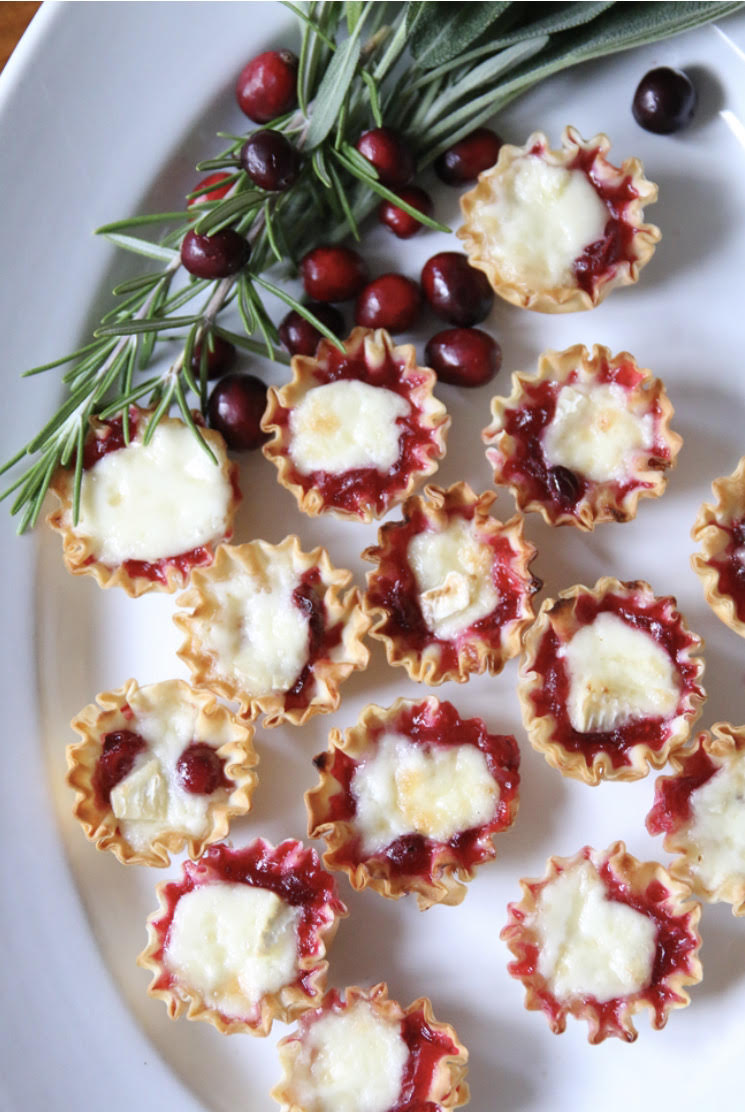 Ingredients:
Trader Joe's Phyllo cups (usually in the frozen section)
Light Brie
One bag of cranberries (12oz)
1/4 cup green onion
1/4-1/2 cup of sugar (I use stevia so it's plant based)
2 tbsp Cilantro
1-2 jalapeno (depends on how spicy you'd like it!)
1 tbsp lemon juice
To make the cranberry sauce: (I like to do this the night before so it can sit overnight.)
Use a food chopper to chop the cranberries. You don't want to blend because the cranberries will start to liquify a little too much.
In a large bowl, combine chopped cranberries. chopped jalapenos, chopped green onion, and chopped cilantro.
Stir in lemon juice and sugar.
Cut the rind off the Brie and cut into bite size so they fit into the Phyllo cups.
Preheat oven to 350.
Fill the Phyllo cups with cranberry jalapeno sauce first, and then place brie bite on top.
Bake for around 10-12 minutes, or until the cheese starts to turn brown.
You can garnish with rosemary to make it festive!  Enjoy!!
---
You'll need something tasty to wash down the spicy little brie bites, so next up is Maryville, TN studio owner, Liz, with a holiday punch, that can be both kid-friendly (non-alcoholic), or boozy for the adults.
Liz says is no secret around Maryville that she is NOT the best cook(!) so she's NEVER asked to bring food, haha! Instead, she said she's always the one bringing the paper products, drinks, and FUN!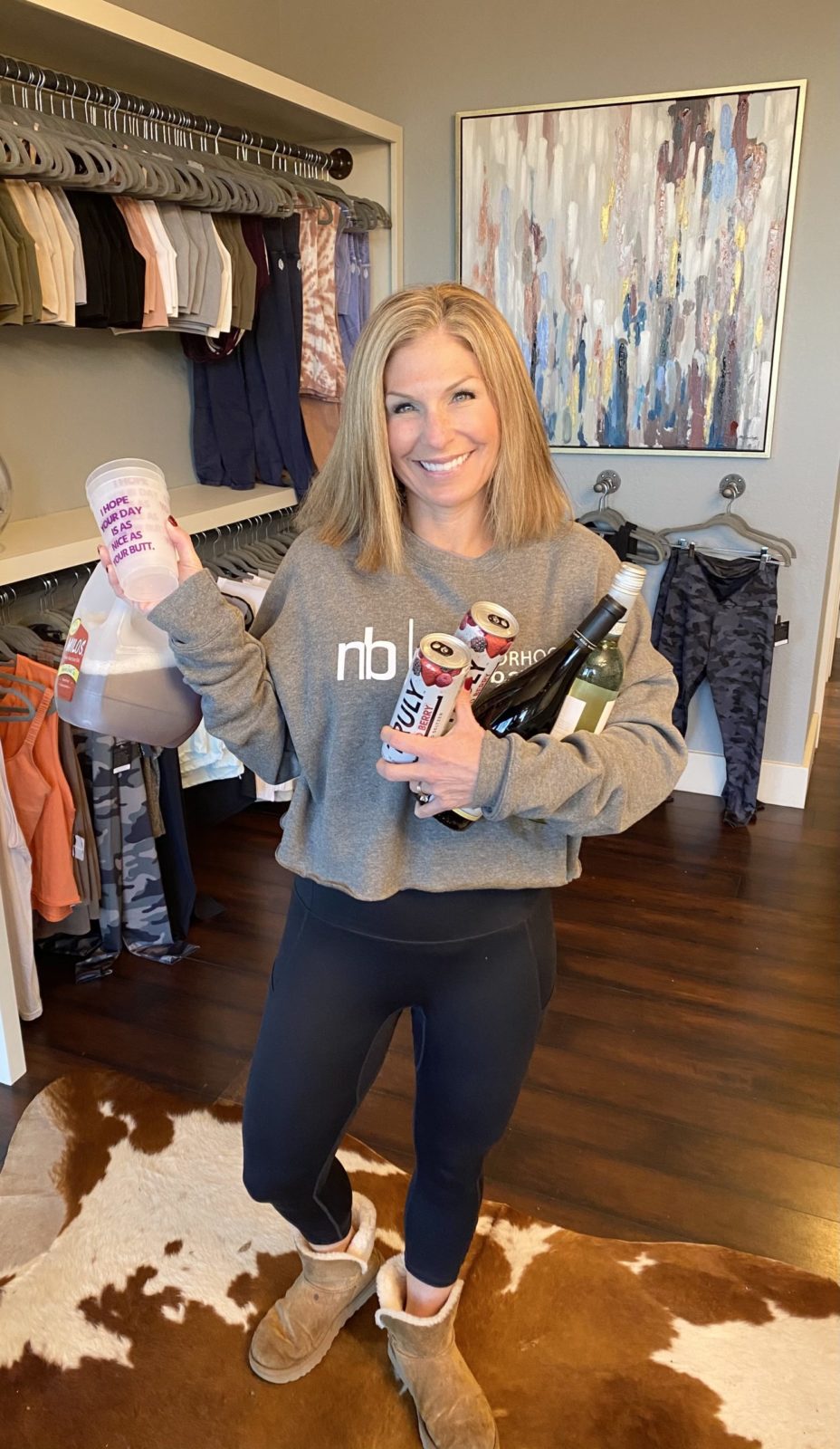 Here is an easy Thanksgiving Day Punch that can be turned into a cocktail OR mocktail for even the youngest guests. And who doesn't love a fun, festive, speciality drink for a good CHEERS!
Thanksgiving Punch:
Mocktail Version
1 gallon Apple Cider (buy some without added sugar)
48 oz of Ginger Ale (a great healthier option is Zevia-4 cans is plenty)
1 red apple sliced thin
1 green apple sliced thin
1 orange sliced thin
1 cup fresh or frozen cranberries
*feel free to add other fruits
1 tbsp of pumpkin pie spice (whisk this in with a small amount of apple cider so that no one gets a big clump of it in their drink)
Cocktail Version
Replace the Ginger Ale with a bottle or two of your favorite Champagne
*Pro Tip- add a shot or two of Jack Daniels Honey Whiskey or your favorite Vodka to your class
Instructions
In a 2 gallon drink jar or pitcher add 2 cups apple cider. Whisk in pumpkin pie spice until all clumps are gone then add the rest of the apple cider. Add in your ginger ale or champagne. Add apples, oranges, cranberries, and any other fruit you may want and stir gently. Refrigerate 2-3 hours. Serve cold. Will keep 3-4 days in the fridge in an airtight container.
Cheers and Happy Thanksgiving from all of us at NB Maryville!
---
No family gathering is complete without a casserole, am I right?! This Autumn casserole has been passed down in Anna's family (Corporate Director of Content, Master Trainer, and NB Nashville Senior Instructor) for years! We had to include the pics of the 'old school' recipe cards, because it immediately makes us nostalgic for grandma!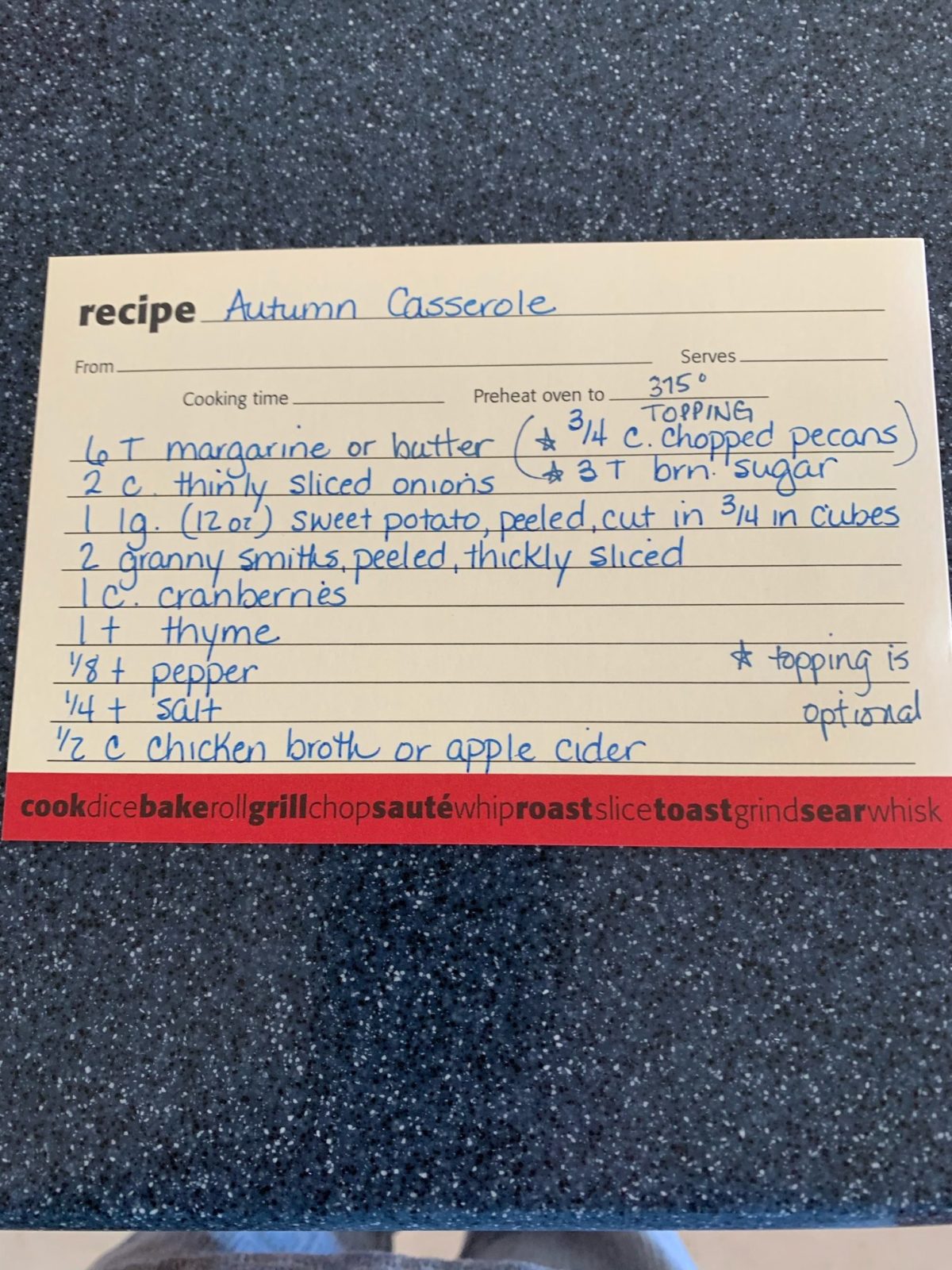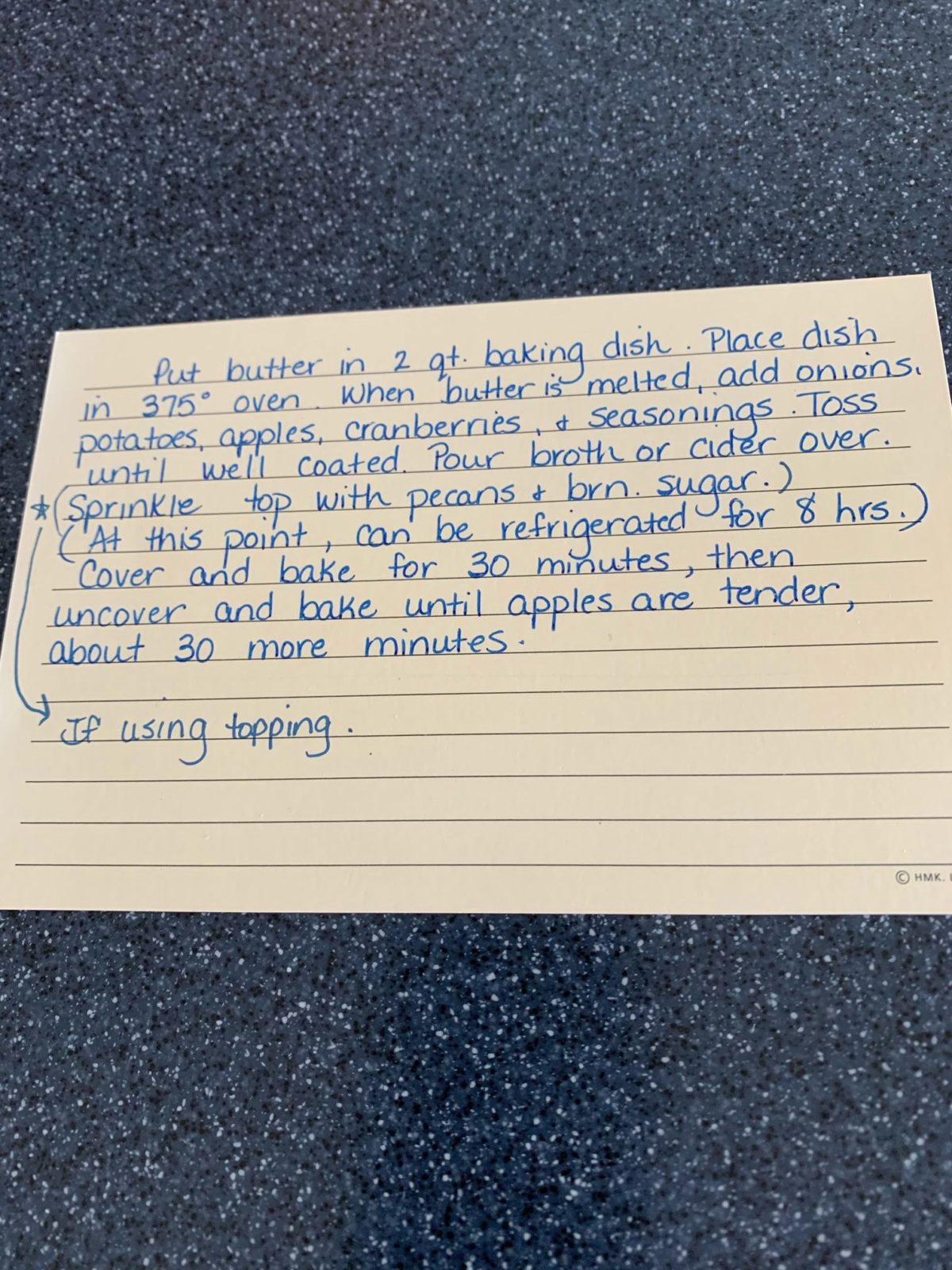 ---
When I asked for recipe submissions, the last thing I expected was a canned food….but if there were anyone to submit this silly family tradition, I knew it would come from the queen barre-bie herself, Katy (NB founder). To know her is to love her 🙂
Please picture her mother-in-law waking in and announcing she's "BROUGHT THE CRANBERRIES!", and then witnessing 3 adults fight over a can of Ocean Spray. The fight is over who gets to slough it out of the can, of course! This dish is not complete without serving on your finest silver (tray). Thanks Katy 😉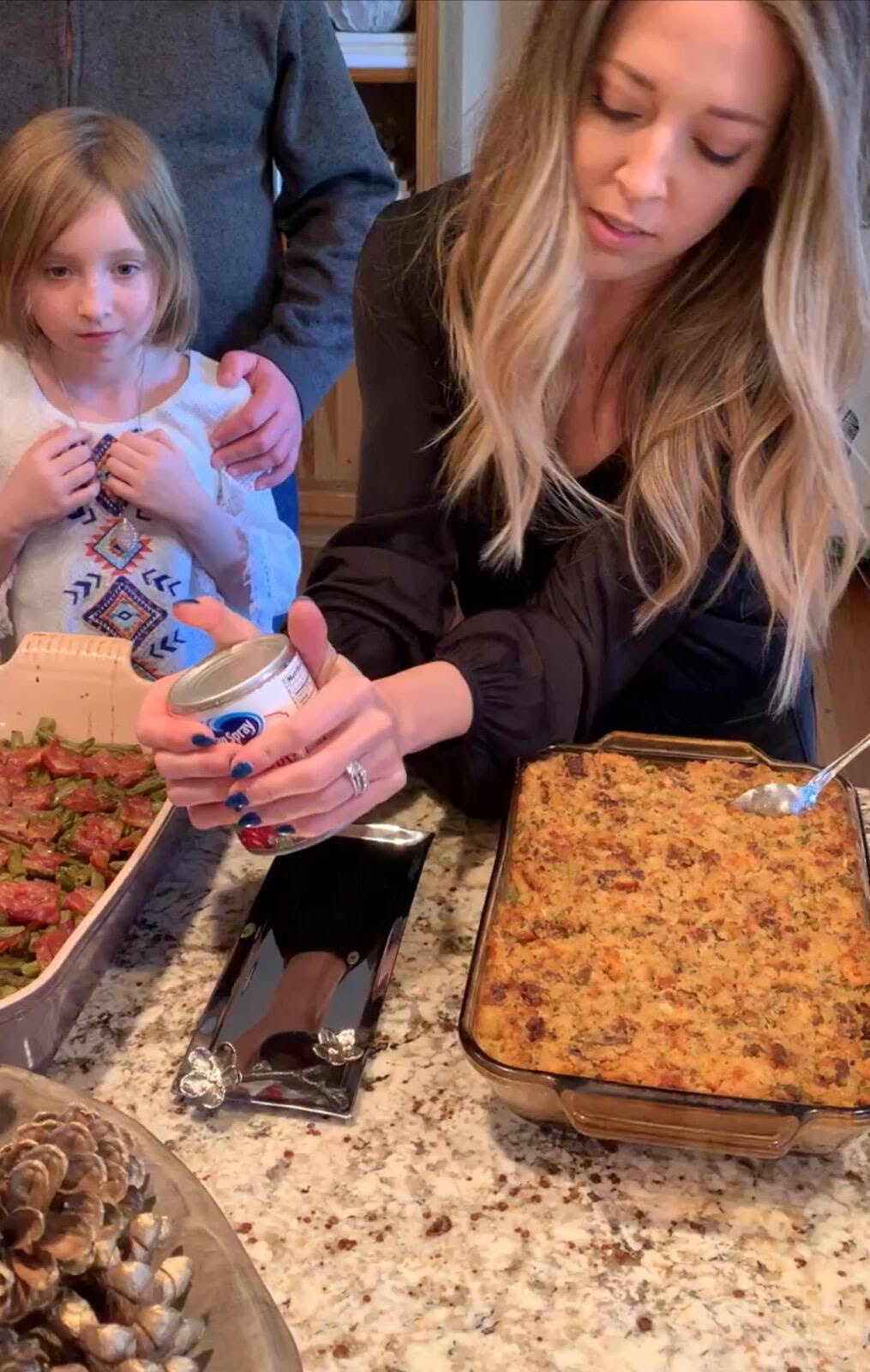 ---
Caroline started as an instructor at NB Birmingham, while finishing her degree at Samford. She moved back home to Nashville and picked up right where she left off, instructing in Brentwood. Clearly Caroline doesn't play around when it comes to volunteering for the biggest responsibility of the day, the turkey.
I definitely opt-in for the dessert or appetizer (or just basically do as I'm told by my mother), but Caroline has a love for cooking and this Thanksgiving will be her second year to bring the bird! Here's her favorite rub/recipe for the turkey.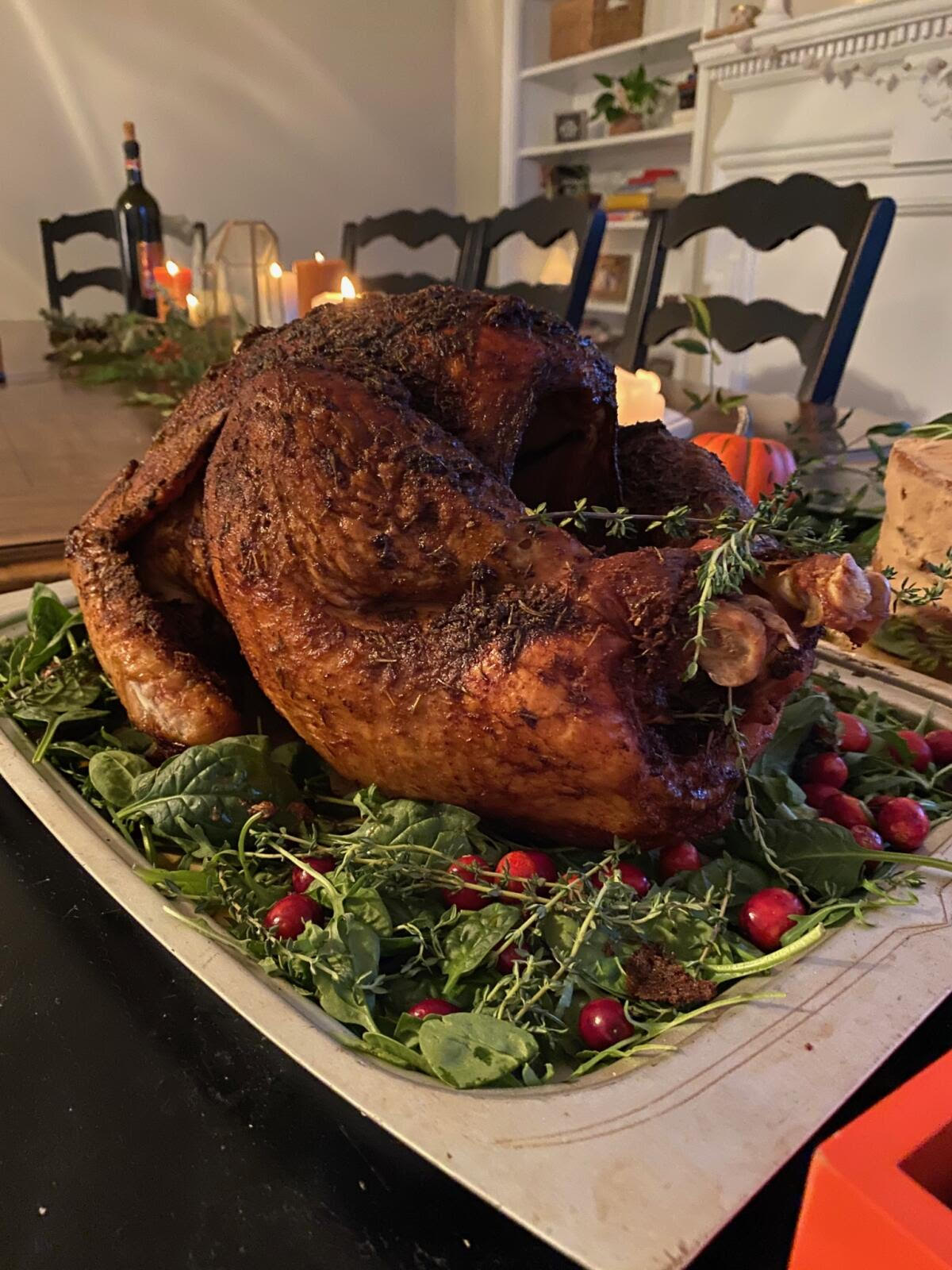 Mix 2 tbsp paprika, 1 tbsp garlic powder, 2 tsp cayenne pepper, 1 tbsp dried thyme, a dash of salt and pepper (can double this depending on how big the turkey is).
Rub the turkey with the spice mix, wrap in plastic wrap, and refrigerate overnight.
Preheat oven to 325F. Drizzle with olive oil. Bake depending on weight (mine took around 4 hours) until the thickest part is 165F.
Every 45 minutes to an hour, baste the turkey.
After you take it out of the oven, cover with foil and let rest for 30 minutes before serving. I like to garnish the servings tray with greens, fresh thyme, and cranberries!
---
Is it even a holiday without a little desert?! We think not. This cake can truly be served year-round (in fact Kara, corporate VA, made this for her husband's birthday just last week!), but we think the carrots, raisins and fall spices make it extra holiday. Can we also just take a moment and clap for Kara's cake decorating skills! If this was my husband's cake, he'd for sure be getting no decorations, unless it were two big, ugly candles highlighting his old (older than me, *key) age. Super impressed! Again, some rosemary, berries or any red flower would be perfect decor for Christmas.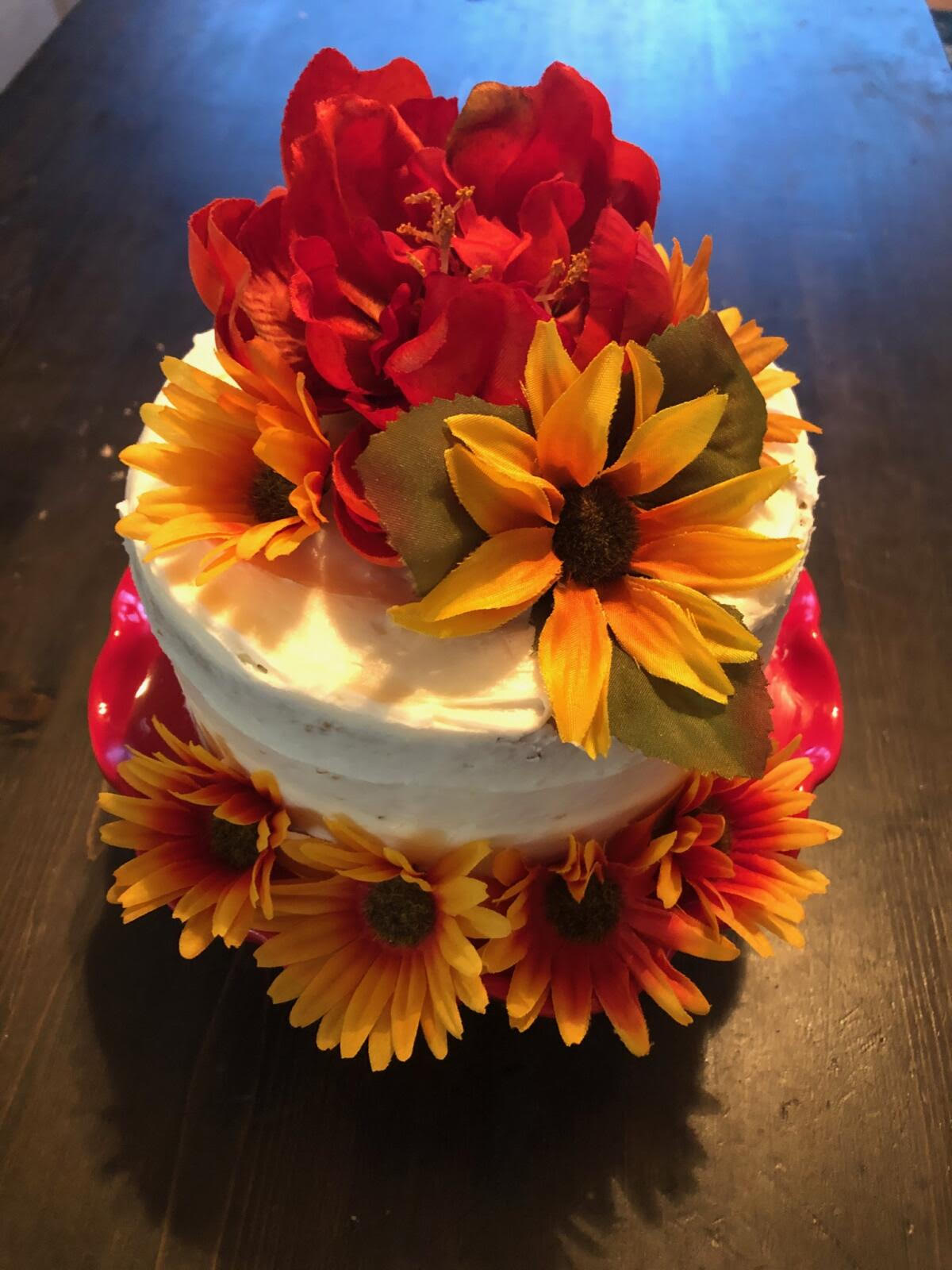 Cake:
2 eggs
1/2c + 2tblsp cup vegetable oil
1 cups white sugar
1 teaspoons vanilla extract
1 cups all-purpose flour
1 teaspoons baking soda
1 teaspoons baking powder
1/4 teaspoon salt
1 teaspoons ground cinnamon
1 1/2  cups grated carrots
Frosting:
½ cup butter, softened
8ounces cream cheese, softened
4 cups confectioners' sugar
1 teaspoon vanilla extract
Directions
Preheat oven to 350 degrees F (175 degrees C). Grease and flour two 6inch pans.
In a large bowl, beat together eggs, oil, white sugar and 1 teaspoons vanilla. Mix in flour, baking soda, baking powder, salt and cinnamon. Stir in carrots.. Pour into prepared pan
Bake in the preheated oven for 35 to 45 minutes, or until a toothpick inserted into the center of the cake comes out clean. Let cool in pan for 10 minutes, then turn out onto a wire rack and cool completely.
To Make Frosting: In a medium bowl, combine butter, cream cheese, confectioners' sugar and 1 teaspoon vanilla. Beat until the mixture is smooth and creamy. Stir in chopped pecans. Frost the cooled cake. Then make sure to lick the spatula (duh!).
---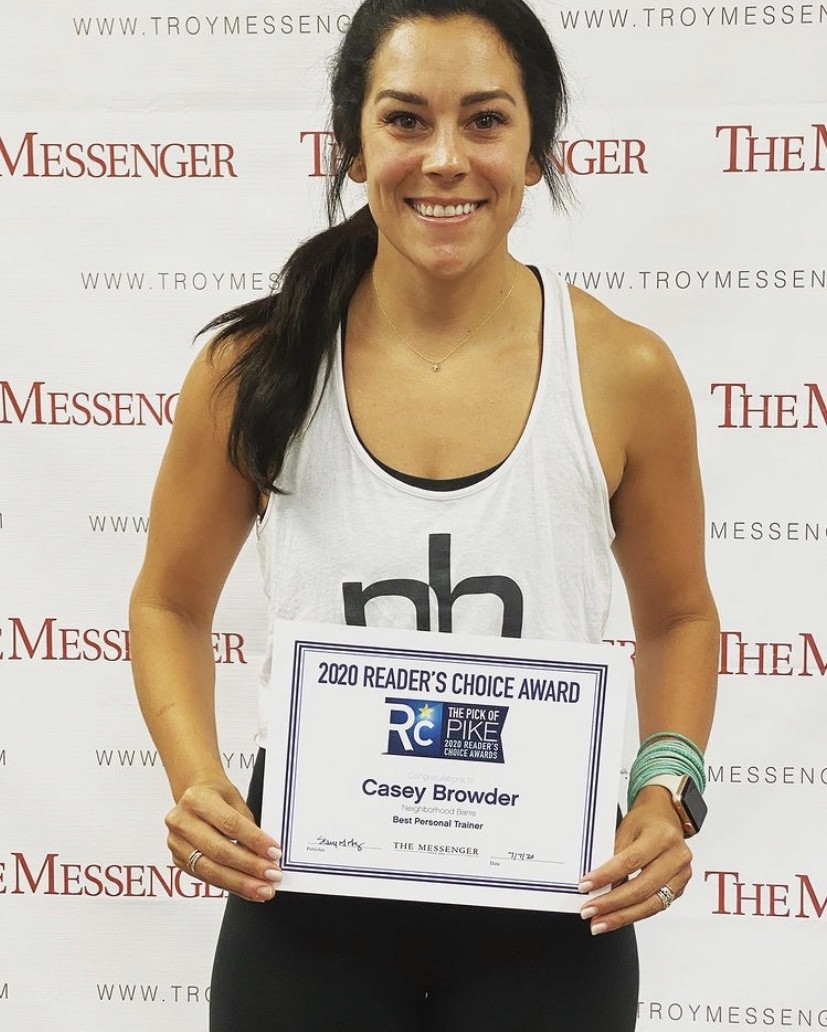 Last up is the crowd pleasing pound cake. As a kid, this was my favorite breakfast treat!! You can add some seasonal flavoring (like orange juice/zest, cranberries or even chocolate!), but Casey's family, our Troy, AL studio owner, prefers this classic rendition below.
Pound Cake:
Pre-heat oven to 300 degrees
Ingredients:
3 cups sugar
3 cups sifted cake flour (Swan's Down is my favorite!)
1.5 cups butter crisco (pro-tip: the packs are easiest)
8 ounces cream cheese (room temp!)
1 teaspoon vanilla
1 tablespoon milk
6 eggs (room temp! fresh eggs are the best – be sure to separate eggs prior)
Cream sugar & crisco, slowly add egg yolks and cream well. Add cream cheese, cake flour, & other ingredients – whip well. Fold in egg whites last.
Cook for one hour and 25 minutes. Try not to devour while cooling down 😉
From all of us, to you and yours, we wish you a very merry (and tasty!) Holiday season!! Xx – your NB fam.