Something Grippie, Something Food, Something Neon, & Some Tunes… What's In My Gym Bag?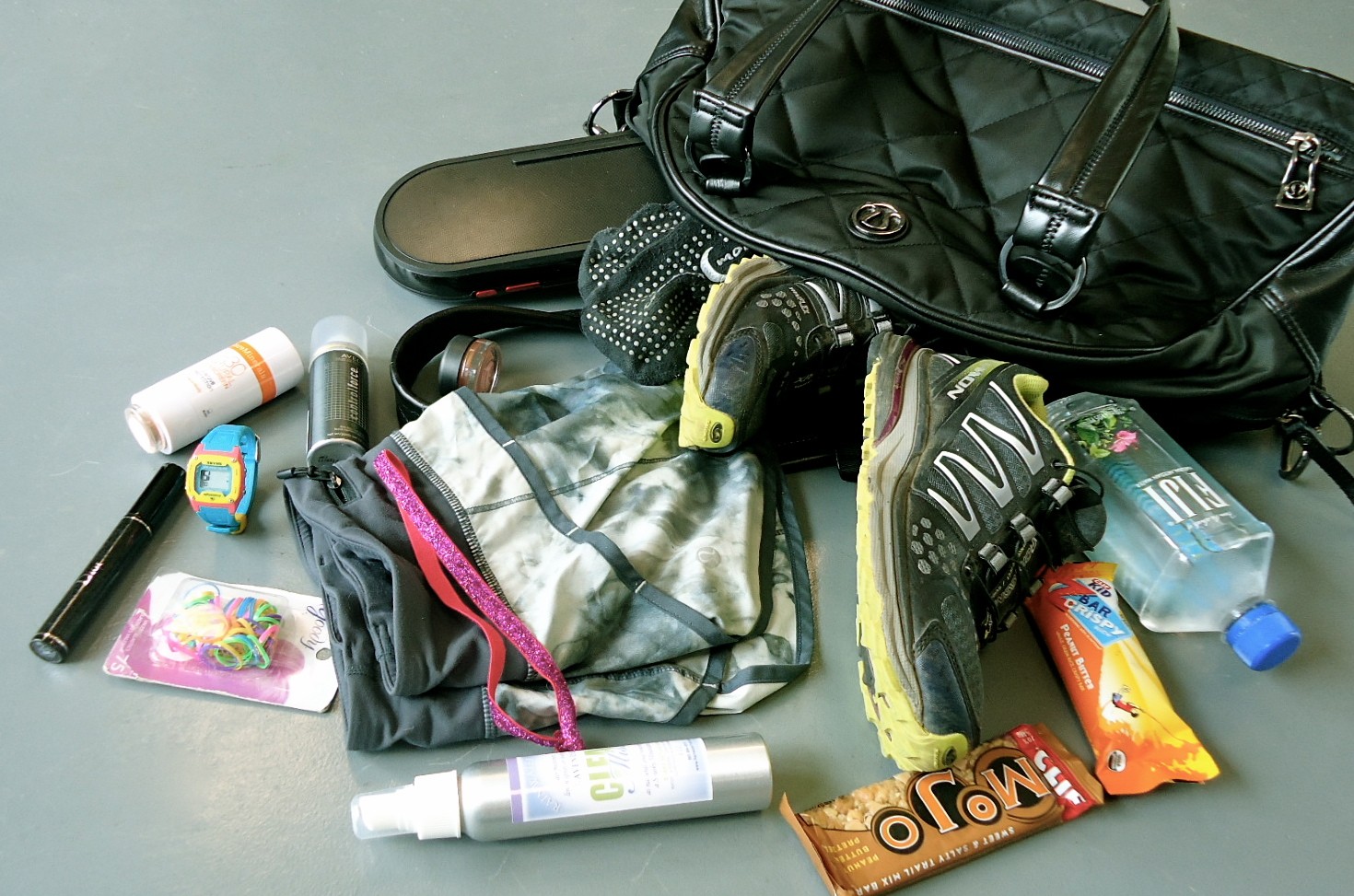 We are frequently asked about gym bag essentials here at Neighborhood Barre, so we've decided to open our bags and share with you our 'must haves' for a barre girl on the go.  Here is a break down of my favorite things, including my top 5 MUST HAVE products. What do we all need? HYDRATION! You hear Hope say it after every class, "water, water, water!" and boy is she right! Water is an essential for every workout and I keep plenty of it on hand in my bag, in my car, and in my purse. I also make sure to pack little snacks to keep up my energy level. I usually pack fruit – bananas, strawberries, or grapes – but I always keep a reserve of cliff bars in my bag! Right now I'm really into the Kids Z Bars and the Mojo Peanut Butter Pretzel (yum!). My grippie socks are also always readily available… I keep at least a pair or two in my bag at all times. Even if I don't wear them every day, I like to have the option in case I feel a little slippery. If you read my last post you know I like to fix hair – braids, buns, twists, what have you – and I'm usually prepared. I keep a stash of pony tail holders (satin around the wrist, tiny neon in my bag), headbands, and bobbie pins. Also, I live and die by MY WATCH.  Not only was it a gift from a good friend when I first opened the studio, it's fabulously neon, and I use in EVERY CLASS. For demo classes and privates, I keep a portable speaker in my bag. I love the little Philips fold up speaker! It's small enough not to crowd my bag, but loud enough to use almost anywhere! Lastly, I'm trying to convince myself to do more cardio in my free time (what's that??). I find that keeping my shorts and shoes with me alleviates any excuses that might arise when the opportunity does come. And drum roll please for my TOP 5!!!
1.  Rainwater Farm CLEAN MIST Spray – It is so refreshing after a hot and sweaty workout! Just give a little shake and a little spritz and you are set to go from the studio to the street, smelling great and feeling refreshed! Our barre-ers must agree, because we have a hard time keeping it on the shelves!
2.  Aveda Hairspray –  Love this stuff. It goes with me everywhere. Keep your fly-aways at bay and give a little scrunch and lift to post-workout hair. Not much needs to be said, except that it is THE BEST thing I've ever put on my hair.
3.  Christian Dior Blackout Mascara – I'm a mascara junkie… I love it almost as much as hairspray. The Blackout is by far my favorite, and it has been for years.
4.  MAC Paint Pot – I don't wear a lot of makeup unless I'm going out, but the paint pot is great for eyelids and cheek bones on days when your complexion looks a little flat. I have it in Rubenesque, which is a bronze shimmer.
5.  Bare Minerals Brush On Sunscreen – This is a great product if you spend any time exercising outdoors. It's a brush-on SPF 30 powder with light makeup coverage. I like the powder because it doesn't tend to run down your face when you sweat like some cream sunscreens. A good on-the-go product!