2022 Holiday Wish List
We're back with our annual gift giving (and receiving) list, featuring some hand picked items from our founder, Katy! Whether you're looking to find something to keep up your routine at the barre, cozy up for a Netflix and chill night on the couch, the latest in beauty and wellness, or a gift for a loved one, we've got you covered.
1. Ouai is known for cult-favorite products for your healthiest hair and softest skin. The hair oil is a multitasking oil that smooths frizz and seals split ends for a healthy, shiny finish while protecting your hair from high heat. Spoiler alert…Katy may or may not have unwrapped this one a little early this year 🙂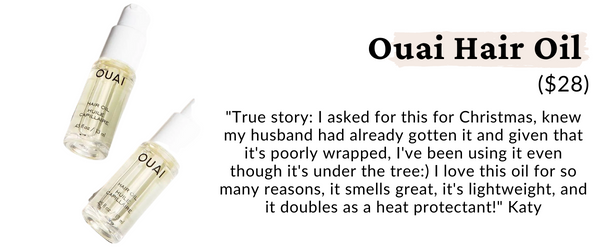 2. Taking board games for adults to the next level, "Where Should We Begin: A Game of Stories" ($40) is designed for ages 18+ to reconnect with others, keep the conversation flowing, and strengthen storytelling skills. Sharing time with those we love most is precious—and this gift can make that time extra special by inspiring you to open up and be vulnerable, and it might even tickle a few laughs.
3. Irresistibly soft, you'll never want to get out of bed after cuddling under this extremely soft throw blanket. Great for bed weather. You'll definitely want to splurge for the real deal here says Katy!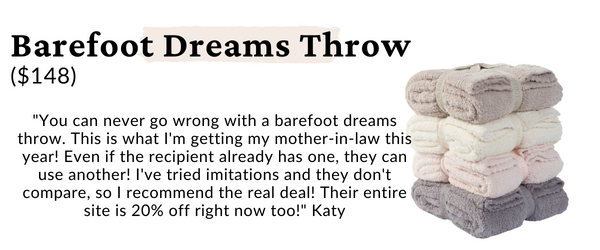 4. Here's a set that includes a guided journal for weekly reflection and gratitude, as well as three notepads from Of It All: a weekly organizer, a daily to-do list, and an "undo" list, which will help you check in with yourself and be still. They work in tandem to keep you organized, mindful and to prioritize only what serves you. The Oia Bundle is 10% when purchased all together ($66).
5. If you love to give or receive practical gifts you can use on the daily, Katy suggests this handcrafted dinnerware from McQueen Pottery. McQueen wants her pottery to symbolize dinnerware that's comfortable to use, enjoyable to look at, and interesting to think about.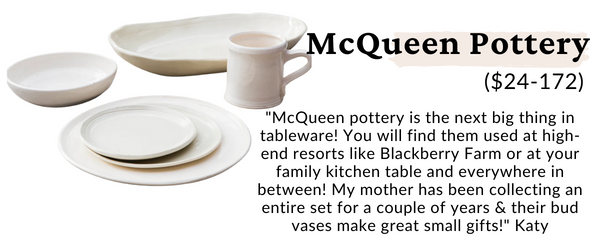 6. Anyone participating in Dry January? This Aplós hemp-infused spirit ($48) —a non-alcoholic blend of yuzu, rosemary, basil, and dandelion will delight your taste buds while supporting your sleep. Designed as an alcohol alternative without the calories and hangover, making it a healthy ritual that you can maintain.
7. Nothing feels better in the winter months than shearling lined shoes, amiright? If you're ready to ditch the UGGs, try these ultra comfortable, cozy and chic Birkenstock Shearling Teddy Sandals. The Birkenstock footbed is made of resilient cork/latex and therefore, over time, the footbed yields to the characteristics of an individual foot.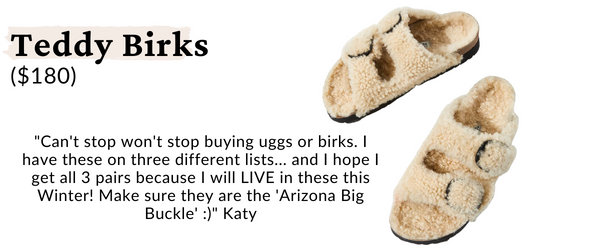 8. In a world of never-ending electronics, books are a great timeless gift to get away from the constant fidgets and electronic toys for children. "In my heart: a book of feelings" ($8.88) is a whimsically illustrated book that illuminates the many feelings that come with being a growing human in this world. From happiness to sadness to anger to shyness, this children's book is the perfect way to build that EQ from an early age.
9. Gua sha is a Traditional Chinese Medicine healing modality. Results are seen immediately as the Aura system from Wildling clears stagnant lymphatic fluid from the tissue. This sculpts, tones and tightens the face and body.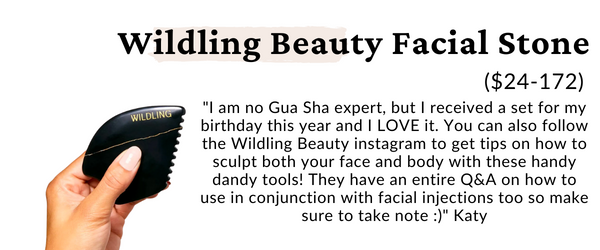 10. Santa baby, forgot to mention one little thing….a ring. Sleep, Readiness, and Activity. These 3 scores on your Oura Ring ($349) tell you how your body feels and what your body needs, every second of every day. You'll know when you need more sleep, when you might be getting sick, when it's time to push yourself — and more.
When in a pinch, gift cards to a local salon, boutique or of course your NEIGHBORHOOD barre are always a great gift to give and get, too!